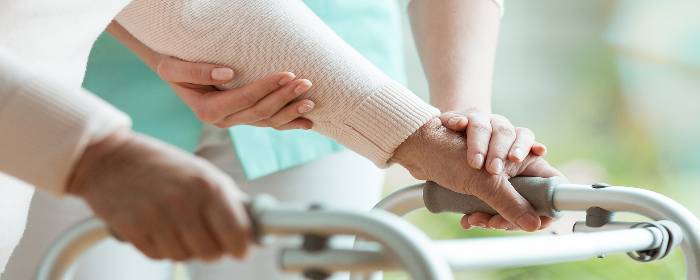 Progressive supranuclear palsy, also known as PSP, is a disorder of the brain that gets worse over time (progressive neurodegenerative disorder). Many progressive supranuclear palsy symptoms are similar to Parkinson's disease. These include rigidity, slowness of movement, cognitive (thinking) problems, difficulty speaking, and difficulty swallowing. While people with Parkinson's disease can have an unsteady gait and "freeze," these symptoms are much more prominent in people with progressive supranuclear palsy. Likewise, people with PSP have a particular eye problem called supranuclear gaze palsy, which causes PSP patients to have difficulty moving their eyes in certain directions.
Despite the similarities between PSP and Parkinson's disease, there are no treatments for progressive supranuclear palsy as they are for Parkinson's disease. Drugs like levodopa help reduce tremors and rigidity in people with Parkinson's, but they have been largely ineffective in people with PSP. Some PSP patients may benefit from drugs like levodopa, but most experience severe visual hallucinations or other side effects, which causes them to stop the medication. Because there are so few treatments, patients with progressive supranuclear palsy rely on supportive care measures such as occupational and physical therapy, nutritional support, and palliative care.
To address this critical need, researchers are testing mesenchymal stem cells for their ability to treat progressive supranuclear palsy. Dr. Margherita Canesi and her colleagues selected five patients with progressive supranuclear palsy. Her research team used bone marrow from healthy volunteers to select healthy mesenchymal stem cells. The researchers then infused the mesenchymal stem cells into patients in a single infusion.
While patients with PSP normally deteriorate rapidly, the patients who received a single stem cell treatment remained stable for at least six months after treatment. Some patients still maintained function at the end of the study (12 months). All patients tolerated the treatment well, there were no major side effects. While the study was small, it suggests that stem cell treatment was able to change the natural course of the disease. Based on these encouraging results, the authors have set their sights on a randomized, placebo-controlled phase 2 study to further test mesenchymal stem cell treatments in patients with progressive supranuclear palsy. We look forward to their results with great enthusiasm.
Reference: Canesi, M. et al. (2016). Finding a new therapeutic approach for no-option Parkinsonisms: mesenchymal stromal cells for progressive supranuclear palsy. Journal of Translational Medicine. 14, Article number: 127 (2016).