Peptides are essential to life in that they naturally occur in every cell of all living things. They are short chains of two or more amino acids and have many biological functions.
Peptides are an affordable alternative option for those seeking to improve symptoms, manage pain, and promote healing.
Discover What Peptides Can Do For You
There are many who seek an alternative such as peptides in managing their condition symptoms or to help in healing. There are many benefits that peptides offer for those with injuries, neurological, autoimmune, and anxiety conditions.
We Offer Patients Compound Pharmacy Peptides 
Peptides that are compounded through a compounding pharmacy must follow USP <795> and USP <797> guidelines. These guidelines help maintain quality healthcare standards and processes. These standards help protect the patient from receiving harmful or improperly made compounded preparations. Compounding Pharmacies are also under the supervision of the Board of Pharmacy specific to their state. Between USP guidelines and the Board of Pharmacy regulations, stringent requirements are placed on compounding pharmacies to protect the end-user patient on receiving quality medication. To provide a peptide to a patient through a pharmacy a receipt of valid prescriptions by a licensed physician is required.
For your health safety, compounding pharmacies are the superior avenue. They are a little higher priced than an online supplier but the quality of the ingredients being used, regulations they follow, and testing performed to produce a quality preparation offset the increased cost and potential risk.

Interested in a Consultation?
Peptides are prescription-based. We offer consultations with a board-certified provider for a $60.00 fee. Complete our medical intake form and our team will call you to help coordinate a phone consultation.
Some popular peptides are:

Semax is a neuroprotective peptide predominantly a nootropic, which has neurogenic/neurorestorative properties. Semax elevates the levels and expression of the brain-derived neurotrophic factor (BDNF) and its signaling receptor TrkB in the hippocampus.
Semax is currently being prescribed for numerous conditions like anxiety, memory improvement, nerve regeneration, strokes, ADHD, Parkinson's, ALS, and Alzheimer's.

Selank is a synthetic regulatory peptide that acts as a stable neuropsychotropic, antidepressant, and antistress drug that relieves aggression and fear reaction. Selank has a nootropic action, which positively influences the formation of memory and learning processes.
Selank has strong antianxiety and neuroprotective effects in the treatment of generalized anxiety disorders.
BPC 157, composed of 15 amino acids, is a partial sequence of body protection compounds (BPC) that is discovered in and isolated from the human gastric juice. Experimentally it has been demonstrated to accelerate the healing of many different wounds, including tendon-to-bone healing and superior healing of damaged ligaments. 
BPC 157 has been seen to protect organs, prevent ulcers of the stomach, provide relief due to discomfort due to muscle sprains, tears, and damage. It can also help aid skin burns to heal at a faster rate and increase blood flow to damaged tissues.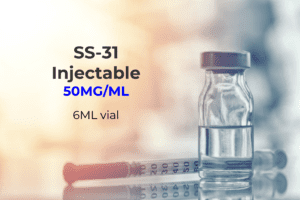 SS-31 has the unique ability to cross the blood-brain barrier and highly concentrate within the inner membrane of the mitochondria (IMM). SS-31 shows promise for many neurodegenerative and cognitive disorders such as amyotrophic lateral sclerosis (ALS), Alzheimer's, Friedreich's, and Glaucoma.
Research is looking at SS-31 for its ability to reverse mitochondrial dysfunction and premature cell death. The mitochondrial dysfunction theory of aging and the free radical theory of aging are intertwined and both would be addressed by the intracellular benefits of SS-31.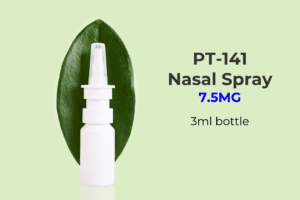 Bremelanotide(PT-141) was developed from the peptide hormone Melanotan II. Used by both men and women, PT-141 works on the central nervous system to directly induce an increase in libido and induce erections.
It helps to manage
male or female sexual dysfunction to help i

ncrease sexual frequency, b

oost sex drive,

hypoactive sexual desire disorder, and raise

sexual desire. 

It is known to increase sexual gratifying experiences by 50%.

ARA 290  improves metabolic control of neuropathic symptoms in patients with Type 2 DM. ARA-290 interacts selectively with the innate repair receptor that mediated tissue protection. It has been shown to help patients suffering from neuropathy.
ARA-290 activates repair mechanisms and accelerates healing including nerve damage that can be associated with sarcoidosis. It also prevents macrophage accumulation in the kidneys and improves hemoglobin A1C and lipid profiles.
MOTS-c is a 16 amino acid peptide that has endocrine-like effects on muscle metabolism, insulin sensitivity, metabolic homeostasis, and weight regulation. It has properties to protect neuronal and vascular systems from disease processes and toxic insults.
MOTS-c has been shown to target the skeletal muscle and enhance glucose metabolism. As such, MOTS-c has implications in the regulation of obesity, diabetes, exercise, and longevity, representing an entirely novel mitochondrial signaling mechanism to regulate metabolism within and between cells.

Nicotinamide adenine nucleotide (NAD+) is a molecule in the body that regulates cellular processes that control the body's response to stress. NAD+ levels steadily fall as we age, leading to a decline in the function of cells and organs.
By raising NAD+, NAD+ boosters are highly promising for the treatment of multiple diseases and the potential extension of the human lifespan.Increases in NAD+ promote cognitive and sensory function, gluconeogenesis in the liver, lipogenesis in adipose tissue, insulin secretion in the pancreas, and insulin sensitivity in muscle.