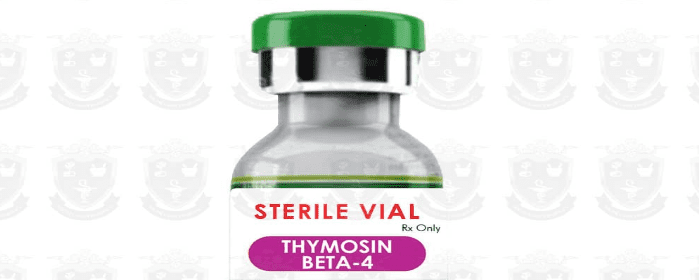 While maintaining proper nutrition is important to powering our bodies and promoting healing, the capabilities of the nutrients we take in through diet can only go so far. To that end, many individuals take supplements on a regular basis. Whether it's to address a deficiency, help prevent illness, or aid in managing a chronic condition, many physicians understand and support regular supplement use under certain circumstances. Recently, a new supplement has been capturing the attention of experts for its remarkable benefits. Called thymosin beta 4 (TB4), the supplement could play a pivotal role in healing. Find out more about this powerful nutrient below.
What Is TB4?
Thymosin Beta 4 is a regenerative peptide found naturally in the human body. It's water soluble, which means it won't get stored in the body when consumed in excess (as is the case with fat-soluble vitamins). The peptide contains amino acids and is a major component found within various types of tissues.
What Are Its Benefits?
Research shows Thymosin Beta 4 has powerful regenerative properties. It's been linked to blood vessel formation, cellular migration, and stem cell maturation. For this reason, it has been used in clinical trials to promote healing in wounds of the heart, skin, and cornea, among other areas. For instance, when heart muscles have sustained damage as a result of cardiovascular events, TB4 has demonstrated the ability to aid in the formation of new heart muscle cells.
Additionally, the regenerative applications of TB4 have specifically been studied in neurological applications. The peptide supports the plasticity and neurovascular remodeling needed for recovery in both the central and peripheral nervous systems, making it a promising therapy for neurological injury and neurodegenerative diseases. Researchers have determined that TB4 "significantly improves functional and behavioral outcomes" when administered 24 hours or more following injury or disease onset.
TB4 also has anti-inflammatory properties. It suppresses the production of pro-inflammatory cytokines while simultaneously exerting anti-inflammatory effects. For instance, it has been shown to aid in the dispersion of bacteria-fighting agents following induced bacterial infections in studies.
Are You a Good Candidate for TB4?
For the most powerful results, TB4 is a prescribed injection you can administer yourself at home. This allows for the increased production of T cells, which supports optimal immune system functionality, as well as Actin regulation, an essential factor for tissue repair.
Thymosin Beta 4 is used for a broad range of applications, including optimizing the healing process following orthopedic-related injuries, as well as managing neurodegenerative conditions such as stroke, multiple sclerosis, and traumatic brain injury. The peptide may also be used for autoimmune diseases, inflammatory conditions such as certain forms of arthritis, Lyme disease, and some infections.
If you're seeking a therapy option to accelerate healing or help you better manage the symptoms associated with a chronic condition, you could be a good candidate for TB4. In addition to the broad regenerative and anti-inflammatory benefits described above, here are some of the more specific advantages patients notice after incorporating TB4 into their treatment regimen:
Reduced joint inflammation
Improved flexibility
Enhanced tissue repair and muscle development
Controlled muscle spasms
Accelerated healing and reduced recovery times
Of course, as with any supplement, it's essential to seek professional care when introducing TB4. If you think you could be a good candidate for TB4 injections, contact Stemedix to learn more.