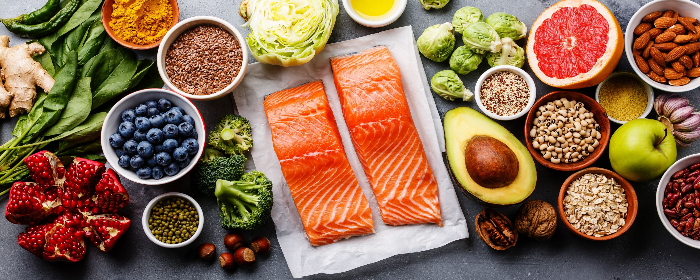 Your immune system is a complex network of organs and cells, including white blood cells, which protect the body against infection, disease, and other foreign invaders. To work optimally, the system requires specific nutrients—many of which you can get from food. Here are a few immune-boosting foods to consider adding to your diet for increased resistance against illness and infection.
Yogurt
Yogurt helps the body produce antibodies that attack viruses. This is likely due to its rich concentration of probiotics, which help the portion of the immune system found in the intestinal tract. For the healthiest options, choose plain, unsweetened yogurt to avoid the added sugar.
Garlic
Not only does garlic add lots of flavor to any dish, but it also has protective immune system benefits, thanks to the sulfur compounds in the vegetable. When chopped, it creates allicin, a compound with antiviral and antibacterial properties.
Nuts & Seeds
Nuts and seeds are good sources of vitamin E. This powerful antioxidant can help the body fight viruses. Moreover, options like Brazil nuts have more than a day's serving of selenium, a mineral that can further support the immune system.
Leafy Greens & Citrus
We often think of citrus as the primary source of vitamin C, the antioxidant that helps to eliminate disease-causing free radicals. While oranges, lemons, and other citrus fruits are indeed fine options, leafy greens such as kale are also loaded with the vitamin.
Dark Chocolate
If you have a sweet tooth, feel free to give in to it now and then—specifically, with a piece of dark chocolate. The indulgent treat plenty of magnesium, which helps components in the immune system called lymphocytes bind to and fight invaders. If you prefer to skip the chocolate, avocados, brown rice, pumpkin seeds, and spinach are also rich sources of the nutrient.
Healthy Proteins
Proteins help repair muscle, but they're also packed with zinc. This mineral is an essential source of fuel for white blood cells. In addition, it can help you maintain your energy levels and strength. Choose lean protein, such as low-fat cheese, chicken, or roast beef, for heart-healthy options.
Seafood
Seafood such as salmon, herring, mackerel, and sardines have omega-3 fatty acids that can help promote immune system function. Specifically, DHA, a type of omega-3, can promote white blood cell activity to strengthen immunity.
With so many immune-boosting foods to choose from, it's simple to begin incorporating more of these foods into your diet every day. Most are also beneficial to overall health—not just your immune system—and are therefore excellent choices for filling your plate.
For more health awareness blogs, please visit www.stemedix.com/blog.