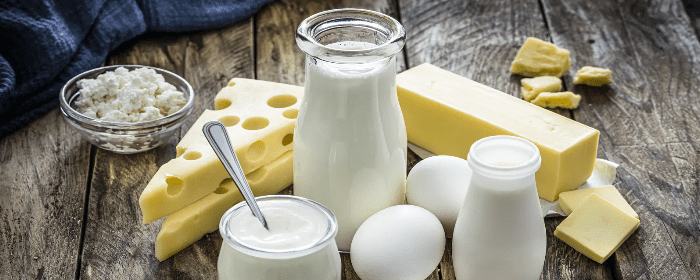 As one of the most debated foods on the market, some dieticians and physicians believe that milk is meant only for baby cows and that cheese has the same limited nutritional merit. Others tout its calcium, protein, and vitamin D, concluding that it is part of a healthy diet.

When it comes to dairy, is it truly healthy food, or is it more of a health risk?
Arguments Against Dairy
Humans are placental mammals. Mothers produce milk to nourish a baby. Dairy detractors note that across the mammalian species when babies mature and begin to eat solid food, they do not go back to drinking milk.
Other concerns that dairy opponents have posed are that the amount of saturated fat in many dairy products is high and that other foods are rich in calcium with fewer drawbacks to their use.
Arguments for Dairy
Over 40 percent of Americans do not meet their recommended daily intake for calcium and Vitamin D. A major reason for this is that many people do not consume an adequate amount of dark, leafy greens. Many other non-dairy foods that are high in calcium are not a major part of the American diet, such as sardines and soybeans.
Most people enjoy the taste of at least some types of dairy, however, and it is often used as a garnish on and in many dishes. When it is used appropriately, it can serve as an effective source of calcium and Vitamin D.
Is There a Final Verdict?
Whether the harm is done to your body by your dairy intake will depend largely on two factors: The amount you consume and the source of your dairy.
If you do choose to enjoy dairy products in your diet, there are a few things that you can do to maximize their nutritional value. When possible, pick the dairy product that is lower in sugar. For instance, opt for plain yogurt rather than flavored forms. By eating things in moderation, you can minimize the impact of dairy on your health.