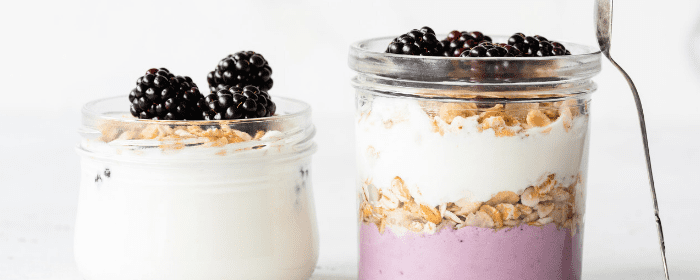 Yogurt is often portrayed as a convenient snack or healthy alternative to more calorie-dense meals. While yogurt certainly has its place in a healthy diet and supplement regimen, there are tons of options available. This wealth of choices can make it difficult to find the right option for your health goals.
With this in mind, we have outlined some of the healthiest yogurt choices that you can find in the dairy section of your local supermarket.
Benefits of Yogurt
Yogurt has tons of potential health benefits. It is naturally high in protein and is packed with nutrients like potassium. Yogurt is also full of probiotics, which help to maintain a healthy gut microbiome and are beneficial for fighting inflammation.
In addition, yogurt can help with weight loss and maintenance. Several studies have shown a positive correlation between eating yogurt and lower body weight. Yogurt has even been linked to a reduced chance of developing oral health conditions like gum disease.
Most Popular Types of Yogurts
The best way to ensure that you are choosing a healthy yogurt is to review the label. Make sure to pay close attention to the number of servings in that container. Dividing up a container into multiple servings is a way that some food manufacturers attempt to make their products look more health-friendly.
For instance, let's say that a particular yogurt that you are considering advertises per-serving nutrition of 90 calories and 9 grams of sugar. These numbers seem reasonable at face value.
However, upon closer inspection, you see that the 8 oz container contains 4 servings, which means that the yogurt has 36 grams of sugar and 360 calories. This type of deception happens all the time and can quickly derail your nutritional goals.
While looking at the nutrition label is important, several types of yogurts tend to be healthier overall.
These include:
Icelandic yogurt (skyr)
Greek yogurt
Traditional yogurt (no sugar added)
Some other options include non-dairy yogurt and Australian yogurt. Both of these can be healthy choices, depending on the brand. Be wary though because the nutritional profile of Australian and non-dairy yogurts vary greatly.
Regardless of the type of yogurt that you choose, look for options that are high in protein, ones that also contain a fair amount of fat. While all yogurts will contain some natural sugars, try to avoid any that have an unusually high amount.