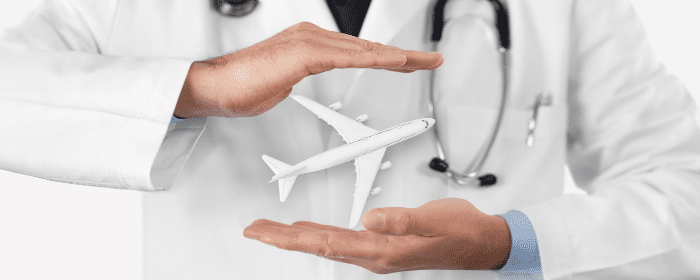 Traveling should be a time for relaxation and enjoyment, but for people with chronic illnesses, it can bring stress and uncertainty. From ensuring you've packed necessary medications to managing your symptoms in changing environments, exploring new places isn't always easy when you have a chronic condition. Here, we discuss some tactics for navigating the challenges of traveling with success.
Check-In With Your Doctor
Prior to your trip, schedule a visit with your doctor to discuss any pre-vacation medical arrangements to be made. Some people with chronic illnesses like to travel with a note from their doctor that details all of their prescriptions and dosages. If you should find yourself without medications or needing an unexpected refill, this information will be helpful to have on hand.
Another good practice is to ask your doctor if there are any preventive medications you should consider bringing on your trip. Some chronic illnesses make individuals more prone to developing infections, so having antibiotics at your disposal could also help you ensure a healthy, stress-free trip.
Set Medication Reminders
Your medications may be some of the last items you pack, so set a reminder on your phone or put a note on your door to make sure you've packed these critical essentials. Also, because your daily routine will be altered when you're in transit and at your destination, you should set a daily medication reminder on your phone to avoid missing any doses.
Here's another helpful tip for packing medications: put some in your carry-on and some in your checked luggage. Should either get lost, you won't be entirely without your supply.
Take Breaks as Needed
When planning a trip, it can be tempting to jam-pack an itinerary with sightseeing and other activities. Just be sure to pencil in some break times to prevent exhaustion. Consider making restaurant reservations to hit pause during your adventures, or map out excursions strategically so you can take breaks at nearby restrooms, benches, and other facilities. If you're feeling great and don't need to take breaks, that's fine – but knowing they're scheduled if you need them can give you peace of mind.
Research Your Destination
Some chronic illnesses require certain accommodations that restaurants and hotels may or may not have. If you have celiac disease or another condition with dietary restrictions, for instance, you'll want to do a little research on the local eateries to ensure there are menu options available for you to enjoy. Likewise, if you have any medical or mobility equipment which may require special accommodations, make sure your public transportation options and hotel are able to accommodate your needs.
Purchase Travel Insurance
Unforeseen circumstances can derail anyone's travel plans. For individuals with chronic illnesses, however, flare-ups and fluctuations could increase the likelihood of last-minute changes in plan. Luckily, trip insurance can help you recover some of the costs should you need to cancel your trip, or provide you with the option of rescheduling for a better time.
Whether you're planning a relaxing beachside getaway or an adventurous outdoor retreat, these tips can help prepare you for whatever could come your way on vacation. Although it may require a bit more planning upfront, people living with chronic illnesses can have an enjoyable travel experience, too.
For more health awareness blogs, please visit www.stemedix.com/blog.