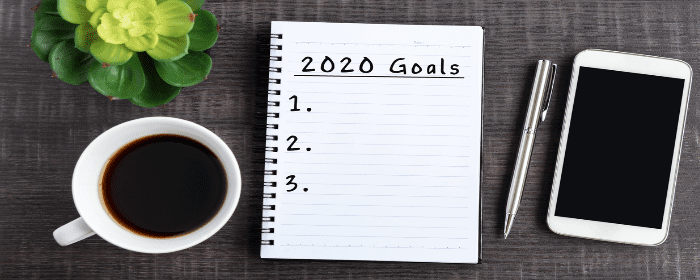 While many of us set New Year's resolutions to eat well, now is about the time when our aspirations start to lose steam. Making resolutions is the easy part, but actually sticking to them can be challenging. Fortunately, there are plenty of ways to maintain your goal of eating better, both now and through the rest of the year. Here are a few simple tips on how to stay on track with your resolution to eat better that you can keep coming back to if you're falling off track.
Choose Water Whenever Possible
The calories we consume in beverage form do count, and they're often a sneaky source of added sugars. Whenever possible, reach for water over juice, soda, and energy drinks.


Fit in Five Fruits & Veggies a Day
Setting a goal to have five fruits and vegetables each day will automatically help you incorporate foods that are filling yet low-calorie and nutrient-dense. Get creative and aim to add a fruit or veggie to every meal: blend a handful of spinach into your morning smoothie or omelet, have some carrots or celery with lunch, serve a side salad with dinner, and enjoy some strawberries or apple slices for dessert.


Add in Some Protein
Foods like salads and pasta become much more filling if you add some protein to them, which can help keep cravings at bay later. Throw some grilled chicken, chickpeas, or chopped nuts into a salad for some protein. Consider adding shrimp or turkey meatballs to your pasta dishes, too.


Have Healthy Snacks on Hand
Getting too hungry while you're on the go could lead to a trip through the fast-food drive-thru. Keep snacks like mixed nuts, apples, and granola bars on hand so you always have access to healthy options.


Map Out Your Meals
Before you do your grocery shopping, make a list of the meals you'll have throughout the week. That way, you can limit your grocery list to the things you'll really need, and you won't find yourself stuck on what to make on a busy weeknight – which could otherwise lead to takeout.


Prep Meals to Reheat
If your weeknights are especially busy, you might consider making batches of meals on the weekends. Soups, chili, and even chopped veggies can be taken from the freezer and heated up with ease.


Never Skip a Meal
Finally, always be sure to eat breakfast, lunch, and dinner, along with healthy snacks throughout the day if you feel hungry. When your stomach really starts rumbling, you're more apt to reach for the quickest thing you can find – which may not always be the healthiest option. Plus, you could wind up overeating to satisfy a roaring appetite. This is a crucial step to take when trying to stay on track with your resolution to eat better.